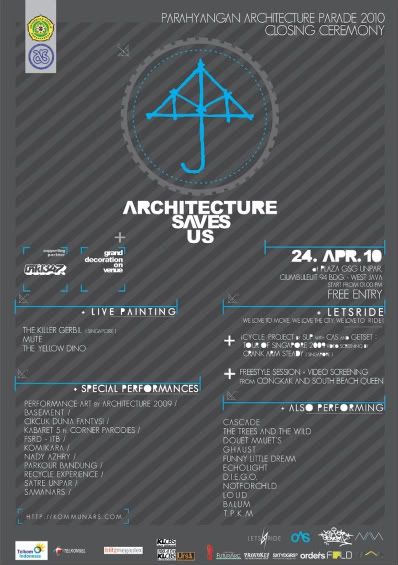 Date & Time
Saturday, April 24, 2010 from 01.00 PM – end
Plaza GSG UNPAR
Jl.Cimbuleuit No.94
Bandung
LIVE PAINTING
The Killer Gerbil (SINGAPORE) | MUTE | The Yellow Dino
LET'S RIDE!
iCycle project : Tour Of Singapore 2009 video screening
by
Crank Arm Steady (SINGAPORE)
Freestyle Session & Video Screening by Congkak and
South Beach Queen
SPECIAL PERFORMANCE
Basement | Cikcuk Dunia Fantasi | Corner Parodies Featuring Kabaret 5
FSRD-ITB | Komikara | Nady Azhry | Parkour Bandung
Recycle Experience | Satre UNPAR | SamanArs
ALSO PERFORMING
Cascade | The Trees and The Wild | Douet Mauet's | Ghaust
Funny Little Dream | Echolight | D.I.E.G.O. | notforchild | LOUD | Balum |TPKM
and also REVIEW from previous event in PARAHYANGAN ARCHITECTURE PARADE 2010
MORE INFO
www.kommunars.com
No need tickets, it's a full throtle free spirits!